The sun was barely peeking over the horizon as Hillary made her way down to the deserted beach towing the usual sundries when heading to the beach for a day of fun in the sun. On warm days like this one, she regularly headed to the beach when she wasn't working as manager of a large local retail store. Although that job paid the bills, Hillary relished the time where she got to spend time working on her tan and watching all the hunks go by.

" Mmmmm...the sun feels good today. I should be able to have the most fantastic tan by the end of the day, " the blonde murmured as she laid out her beach towel and other items on the sand. Just as she was about to sit down and start applying her suntan lotion, Hillary spotted something lying half buried in the sand just on the edge of the surf.

Walking over to where the item was, Hillary saw it appeared to be some sort of brass lamp that, judging by the markings on the sides, looked to be several centuries old. Amazingly, the glass part of it seemed to be perfectly intact besides being in the ocean for who knows how long. As a collector of antique fixtures, Hillary figured that after it was cleaned up and such, the lamp, at the very least, would be an interesting conversation piece.

After tucking the lamp in with her other things, the blonde resumed her day of basking in the sun and enjoying the scenery. When the sun set later on, Hillary quickly made her way home where she unpacked her things and placed the lamp in the center of her dining room table after cleaning it. She then headed off to take a shower and wash some of the sand still clinging to her body.

Twenty or so minutes later, Hillary emerged from the bathroom with a towel wrapped around her nude body and rubbing another towel vigorously through her damp hair. She was about to take a closer look at the lamp when she heard a knock at the door. Quickly throwing a robe on, she hurried over to the entrance to see who her visitor was.

To her pleasant surprise, she found her boyfriend Jack waiting for her with a warm smile on his face. After the two embraced, Hillary showed him inside and asked why he wasn't away on his business trip he told her about.

" Well, apparently the people who I was going to meet have been delayed by last minute problems and they asked me to hold off on the meeting until next weekend. The good thing about this is I now have 4 days without any work hassles to bother me and I get to spend it doing whatever and with whoever I desire, " Jack said warmly as he wrapped his arms around his girlfriend's waist.

" That's great ! Hey, I can show you what I found at the beach today. It's really cool ! " Hillary said happily as she led her boyfriend over to the table to show him the lamp.

After a few minutes looking over the item and trying without success to make sense of the symbols written on it, Jack asked his girlfriend to get some lamp oil out while he cleaned up the exterior of the item. After filling the lamp and finding the wick was still lightable despite being in the ocean, Jack dug out a lighter from his pants pockets and lit the wick in it.

The two turned off the room's lights and enjoyed the bright glow that was emanating from the lamp for several minutes. Suddenly, the light smoke emitting from the lamp turned bright red in color and started to thicken rapidly as it gathered above the object. In a matter of seconds, the entire area above the table was filled with a thick cloud of red smoke which forced the couple to quickly back away.

Before the couple could decide what to do next, the cloud slowly formed into a bright red ball of energy which glowed brighter and brighter by the second. Moments later, the energy dissipated completely and a mid 40's bespectacled man dressed in a dark blue suit stood next to the table.

" I am the genie Farzeeth and you have released me from the lamp that has kept me prisoner for thousands of years. As a reward for your freeing me, I am prepared to grant you, with certain conditions, four wishes for whatever you desire, " the man said with a booming voice.

Stunned momentarily by the sight before them, Jack was the first to recover his voice. " Ummm....I don't mean to doubt you or anything but you don't look like a genie. Besides, the lamp you came out of isn't one from thousands of years ago and the genies I've read about only grant three wishes. Could you maybe give us a little gesture to prove you are who you claim to be ? " he asked with bravado in his voice.

Shaking his head slightly, Farzeeth looked at the two with contempt and amusement both visible on his face. " First off, I was reading the minds of both of you when I was slowly regaining my corporeal form. I assumed the appearance of someone capable of making money disappear and bringing joy or sadness to the people he meets. Judging by what I now perceive, I think you call the person a ' bank manager' though I could be wrong. I'm not used to the terminology of this particular century or region of the world. If it'll make you two feel more at ease, I'll assume the appearance of what you perceive beings of my nature to look like, " the genie announced in a loud and boisterous voice.

"ALZEK BEKROATH UCLTOTH!!!" Farzeeth intoned which immediately resulted in a cloud forming around him and the table next to him. When it dissipated five or ten seconds later, the dark skinned genie stood wearing a white turban with a silk outfit that looked like the typical outfit worn by Egyptians from the 19th century. The lamp had changed as well with a smaller version that looked to be pure gold and the appearance of a lamp that came straight out of a cartoon movie.

" Now that my appearance is more in keeping with what you anticipated, it's time to discuss the part of your question in terms of the number of wishes. Despite what you have been led to believe, a genie can award any number of wishes depending on his or her mood. My friend Jangizeth granted the ones who freed him ten wishes when he emerged in the country I think you call Canada. Of course, he wasn't aware of the citizens' tendency towards promiscuous activities and the fact they wanted a sport to play and dominate when not enjoying those activities. Nevertheless, Jangizeth granted the wishes and look where they are today, " Farzeeth intoned with a wry smile.

" Yeah....a country of snow, beavers and polite people......BORING!!! " Jack murmured to his girlfriend, who tried not to laugh out loud in response.

" As for the wishes themselves, there are some general parameters or limits to the scope of them. First off, I can't change the past so if you want to go back and do better in a job interview or have higher grades in school, it's not going to happen. Secondly, I'm not going to kill anybody for you so if you're thinking of becoming the head of a gang of criminals, you might want to try another career option. Third, my powers to fulfill wishes weakens considerably as the scale of wish gets bigger. In other words, what you wish for globally may not be as exact as something you want personally, " Farzeeth said with a smile.

" Ummmm....ok...I guess I can understand the limits. Does it matter if we're not ready to give our wishes right now ? " Hillary said with a look of awe visible on her face as she tried to comprehend what was going on.

" No, not at all. When you're ready to make your wishes, just call out my name and I shall appear to grant them. One last thing: I have spent some time in the lamp so my focus is not what it used to be. When you tell me your wishes, don't ramble on and on with your desires and dreams. Keep it short and precise. Is everything understood ? " Farzeeth said while brushing what appeared to be grains of sand off his sleeves.

When the couple nodded in agreement, Farzeeth smiled and, with a bright flash of light, the genie disappeared from sight though there was an audible hum coming from the lamp on the table. A few moments later, Jack motioned for Hillary to follow him into the bedroom.

" Well, what do ya think ? Should we wish to be millionaires ? Owners of the biggest house in the world ? " Jack said enthusiastically while looking around the sparsely furnished room.

" Let's keep it simple. I've seen too many movies where people get their wishes twisted by people with magic powers. Why don't you let me start with a simple, straightforward wish and then we can go from there ? " Hillary replied with a mischievous look on her face.

" Well......ok, but nothing too wild. I don't want to blink and find myself surrounded by a new male harem that worships the ground you walk on, " Jack said with a mock sternness to his voice.

Hillary laughed and nodded in agreement before the two stepped back into the dining room. After a few words of reassurance, she stood close to where she stood before in the dining room. Hillary composed herself as best she could before calling out the name of the genie.

Moments later, Farzeeth appeared in the middle of the room holding what looked like a laptop computer in his arms. " This is amazing.....a way of communicating with people around the world without using your voice. Pictures of what goes on around the world available by tapping your fingers on a keyboard. It is stuff I only saw when previous people I encountered wished for it and even then, the wishes were rather limited, " the genie said with a look that was similar to what Jack and Hillary had when they first saw Farzeeth.

" Ummm....I hate to interrupt you but I summoned you to make a wish, " Hillary said in a impatient voice. She was afraid that if she let the genie ramble on about all he discovered, she might misspeak her wish with disastrous results.

" Ooops....sorry, I tend to ramble on when I'm trying to catch up with what had been going on with the world while I've been in my lamp. I gather that judging by the impatience in your voice, you're prepared to make your first wish, " Farzeeth said with a twinkle in his eye.

" Yes, I am. My first wish is for me to have bigger breasts and a body to match but nothing out of the ordinary, " Hillary said quickly and without hesitation.

The genie nodded slightly in understanding. " A wish I have granted before... first time was back in ancient Babylonian times with a queen looking to gain favor from the members of her court.... or was it Egyptian times ? Oh, well,BREASTETH GROWLUS BEAUTIFICUS!!!" Farzeeth said in a loud and blooming tone.

Mere moments later, Hillary felt her body starting to tingle from head to toe. She gasped slightly as the sensations started to center around her boobs, waist and thighs. Before she knew it, her chest was pushing outwards the robe she was wearing while, at the same time, she felt her waist narrowing by at least several inches while her legs thinned and became longer. Jack looked on with unabashed appreciation as he saw his girlfriend change rapidly right before his eyes.

Hillary's breasts continued to push outwards causing her robe to come undone and expose the two mounds of swelling mammaries that were poking outwards. Her eyes fluttered and she let out a slight moan of pleasure as the wish completed the transformation of her body. Her rather ordinary physique had been replaced by a buxom one that looked a model from a big boob adult magazine or a high priced movie actress.

" Wow, I.... I look incredible! Don't you think so, Jack ? " Hillary exulted as she twirled in front of her boyfriend. Jack, with his mouth hanging open, stood there in silence with a tiny bit of drool visible on his chin.

" Now that your first wish has been granted, are you ready to tell me your second wish ? " Farzeeth said looking not the slightest bit embarrassed by Hillary's partial nudity.

" Ummmm... not really....would it be all right if we waited and thought over our next wish ? " Hillary said with a dreamy expression on her face as she ran her hands up and down her new body even as Jack helped refasten her robe.

" No rush at all. It seems I've got a lot of catching up to do with what's gone on since the last time I was freed from my lamp so take all the time you need. When you're ready, just call me and I'll be here, " the genie said with a wink before turning into a loud cloud of red gas that rapidly dissipated and vanished altogether in a matter of moments.

Jack looked at his girlfriend and smiled in approval. " Well, I think your wish turned out just as you planned, honey. Do you want to head into the bedroom so we can check out your new looks a little more personally ? " he said with a sly wink.

After a few moments of hesitation, Hillary nodded and told Jack to wait in the bedroom while she makes sure the doors are locked for the night. When Hillary entered the bedroom, the two started to slowly caress and kiss each other in the usual foreplay before intimacy. However, when Jack tried to initiate the early stages of intimacy, Hillary begged off saying she wasn't in the mood and a little tired from the day's events. Disappointed, Jack muttered that it was all right and the two quickly settled into a light sleep.

However, the aborted lovemaking seemed to have bothered Jack a lot more than he initially let on as he brought it up when they discussed their next wish to be given to Farzeeth.

" Listen, why don't we keep the next wish simple ? You always seem a reluctant when it comes to us making love at night. Why don't we make the wish based on that ? I'll make it if you're scared you'll mess up the words or phrasing, " Jack said looking at his girlfriend with a friendly look.

" Well, I guess it would only be fair after all considering I used the first wish purely for myself. Just make sure that you turn me into a nymphomaniac, ok ? " Hillary said as she stood up and grabbed her bathrobe from a nearby chair.

" Well, maybe just a little nympho.....Ha ! Ha ! " Jack said which produced great peals of laughter from both of them. After a quick kiss and a hug, the two quickly dressed and headed out into the dining room, where the lamp sat patiently waiting for the next request for Farzeeth to fulfill.

After Jack drank a cup of coffee, he cleared his throat and called out the genie's name once again. A few seconds later, the familiar cloud of red smoke appeared in the room with Farzeeth appearing before them with what looked like a large screened TV hanging in the air in front of him.

" Amazing... hundreds of channels offering everything from what the weather is like to men and women making love after giving advice to couples looking to improve their marriages. It seems my fellow genies have been busy while I've been floating around in the ocean. Now, then, I gather you two wish to make another wish, yes ? " Farzeeth said while snapping his fingers ,which resulted in the TV disappearing.

" Well, yes, I'll be making the next wish. I...... " Jack started to say before Hillary tugged on his shirt sleeve and leaned over to whisper in his right ear. After a few moments, Jack nodded and stood straight once again to face Farzeeth.

" Ok... my wish is that Hillary is always ready and eager to have sex, with me taking care of her forever and ever, " Jack said in a rather rapid fire manner as if he wanted to make sure he didn't stumble across the wrong word.

Farzeeth frowned slightly and looked at the couple for a few seconds with growing puzzlement becoming visible on his face. "Hmmmm... I'm not really sure if I can fulfill this wish according to the way you've worded it. Let me mull it over for a bit and if I can do it, you'll see the results before the end of today, I promise, " the genie said rubbing his right hand thoughtfully over his bearded chin.

Nodding uncertainly, Jack and Hillary watched as the genie disappeared much like he did before. Running her hands through her hair, Hillary told her boyfriend she was going to change and take a quick dip in the pool out back before dinner. Jack nodded and said he'd be checking to see if his TV shows taped on his DVD/VCR combination system.

" Yep... that Czech documentary on the rarely seen carnivorous fir tree seems to be have been recorded ok... oh.... Hillary!.... Hillary, I think you forgot something ! " Jack said as he stood up and quickly hurried in the direction of the bedroom. However, just before he got to the room, he felt his body start to tingle from head to toe accompanied by a feeling of dizziness. Jack leaned against the room's door frame and gazed with a growing fog in his mind at his girlfriend.

Just as Jack was looking in, Hillary, who had stripped all her clothes off to put on her bathing suit and even had a towel in her right hand, looked to have just realized that her new look would mean the suit would no longer fit. However, the truth was, the situation was far different than what it appeared to be though judging by the rapidly clouding expression of Jack, he wasn't aware of it.

However, Hillary knew what was going on but was in no position to tell anyone as her ability to speak had vanished as had her ability to move in the slightest. Her left arm was frozen bent at the elbow with the hand resting on her head rumpling through her blond locks. Her right arm hung loosely at her side with her legs slightly splayed apart as if she was going to bend down. Hillary's eyes were wide open though whether it was from a last minute realization of something happening to her or not was hard to tell from the befuddled perspective of Jack.

Hillary was well aware that her body was unresponsive to her thoughts and, judging by her reflection in a mirror opposite her, transforming rapidly. Her skin seemed to be taking on a glossy, artificial tone with all blemishes and freckles disappearing rapidly. The change was accompanied by Hillary having the feeling that her insides were liquefying and becoming nothing more than air or gas.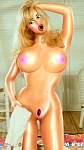 "My body.... it's changing... but changing into what?" the blonde thought as she saw what appeared to be seams starting to appear on her limbs. She saw ( as well as felt ) her pussy start to close on its' own triggering what felt like waves of erotic sensations to ripple through her entire body. It then opened into a smooth, round opening composed of the same soft material the rest of her body was becoming. Simultaneously, Hillary felt her anus shifting upwards by what felt like several inches before twisting and contorting on its' own into a shape that Hillary was fairly certain resembled her rubber and latex pussy.
"I'm becoming some sort of love doll..... the genie must have taken Jack's wish literally.... oooohhh... I feel so good though......" Hillary thought as her thinking started to become hazy with visions of her as a doll making her owner happy and him taking care of her creeping into her train of thought. She could see the seams becoming more defined as the change swept upwards into her torso and chest. The feeling of lightness became more intense by the second as she saw what looked like stress marks appear on her left elbow while her waist narrowed by at least several inches.

When the transformation reached her impressive chest ( transformed by the first wish), Hillary felt her breasts swell outwards while becoming perfectly symmetrical and surrounded by the same seams that ran up and down her arms and legs. Thick, rubbery nipples surrounded by bright pink nipples appeared on her boobs that seemed to beg to be caressed and fondled. Hillary started to wobble back and forth on her feet as her new lightweight body wavered much like a balloon on a windy day.

"Oooooohhh... I'm a good dolly..... I hope my owner wants me and cares for me.... I'm always ready to be loved......" the doll Hillary now was thought in a simplistic manner as her normal way of thinking receded into the fog that her mind was in. The change swept into her head causing it to take on the same artificial appearance that the rest of her body had taken on. Her mouth quickly formed into an O shape with the teeth and tongue melting away as the interior formed a smooth sac perfect for probing by its' owner. The transformation completed its' process with her eyes becoming nothing more than painted features that were wide open like all love dolls and showing an eternal lust for desire in their lifeless features.

With that, the doll slowly toppled forward where it bounced off the edge of the bed and landed softly on the plush carpeted floor. It laid there for several seconds silently wondering where its' owner was and constantly wanting to please him when he came for her.

As for Jack, the wish's affect on him was much less visible. After a few moments of dizziness ( during which the room seemed to flicker and change ), he stood up straight and looked around with a warm smile on his face. The bright pinks and yellows on the walls and bedding had been replaced by the darker tones associated with a bachelor's home, which now was Jack's home. In his new wish adjusted thinking, he had always lived here, had found a magical lamp earlier in the day that had resulted in him having two wishes though what they were for seemed to escape him at the moment.

Walking slowly to the sex doll, he gently picked it up and put the doll lying on its' back on the bed. As it settled, the doll's arms settled into the traditional L shape and its' legs swung apart to allow access to its' openings by the owner.

" Hello, Hillary. I'm sorry I haven't been in here to take care of you but I came across the most extraordinary item today at the beach, " Jack said while he quickly stripped off his clothing and put them on the floor in front of the bed. He then picked up a box lying on the floor next to the bed and opened up the top. The box, which had a picture of Hillary on the front as she used to be, had an inflation pump inside it, a clear plastic bag to store the doll when not in use and the item Jack was searching for - a white tube with blue and red colors on it and EASY LOVE- gel for maximizing your pleasure.

"Ooooohh, maybe my owner will use me like the good dolly I..... WHAT?.... I'M NOT A DOLL!!.... JACK, THIS IS HILLARY!!... DON'T YOU.... that feels so good...." the doll's thoughts fluctuated wildly as Jack started to apply the cream to its' openings with Hillary's normal thinking returning when her boyfriend's fingers rested briefly inside before reverting to the simple desire for pleasure and love. A minute or so later, the love doll found its' soft late torso being caressed by Jack's fingers ever so tenderly.

" Don't worry, Hillary, I'll make it up to you tonight, " Jack said as he squeezed and caressed the doll's ample breasts.

"NO!!!... I'M NOT..... yes, I'm ready for love, owner..... ooooooohhhhhh!!!!!" the doll thought as what remained of Hillary's persona was overwhelmed with the sensations of a long night of intimacy and extensive lovemaking that laid ahead. Judging by Jack's gentle caresses and touches and the resulting erotic feelings the doll was experiencing, it was a night both would enjoy.
Next morning......
Jack woke up the next morning with his arms draped across his favorite sex toy and a satisfied smile etched on his face. Sitting up, he leaned over and caressed the doll's nylon blonde hair and face for a few seconds. He then got out of bed and, grabbing a towel off a nearby chest, proceeded to wipe the doll clean of the fluids from the previous night's lovemaking.

"Ooooohhh, that was so incredible.... I hope my Master is happy.... he was very thorough..... THAT GENIE!!!.... HE TAKES THINGS TOO LITERALLY!!!.... I'm ready to make love again to my owner......" the doll thought as her hollow body squeaked softly under the attention of Jack. At that point, it expected to be deflated and stored away until the next time her owner needed her. However, Jack just sat on the edge of the bed for several minutes in quiet contemplation as he stared at his favorite possession in the world.

After a bit, Jack stood up, quickly got dressed and, after glancing back at the love doll that was lying slightly on its' right side seemingly begging him to come back and use it again, walked back to the modestly decorated dining room, where the lamp stood on the table next to the remnants of his meal from the night before. The strangest thing was he couldn't remember ordering food from the local pizza place or even what he ordered.

"Next time, no beers with late night grease......" Jack thought to himself as he once again called the name Farzeeth. As he watched the familiar cloud of smoke start to rise out of the lamp, he cast his glance idly out the window and towards the neighbor's house. He let his eyes settle on the curvaceous physiques of Francine and Alice as they walked back and forth in front of the windows that faced his place. The fact that both had turned him down on numerous occasions when he asked either of them out was a sore point in itself. However, there was also the fact that they visited his place at the most inopportune times and even did little stripteases in front of their window really irritated him to the point that he would have told them to go to hell several times if not for their distracting good looks.

" Ummm... Jack ?... Hello ?.... The genie, remember ?....... " Farzeeth said waving his hand in front of Jack's face to try and get his attention. When Jack turned his gaze, somewhat reluctantly, back to the genie, he saw the magical being was now wearing a white T-shirt and blue shorts with expensive looking sneakers. If not for the fact that his eyes glowed with an eerie energy, he looked like a fellow out for a walk in the warm sunshine.

" Sorry, sorry, I was a little distracted by...uhhh... the scenery. I'm all set to make my third wish though I'm a little vague as to what I wished for in the first two, " Jack said rumpling his brown hair with his right hand as he tried to recall what had happened previously.

" Don't worry about it. I'm sure once you've had all four wishes granted, you'll be more than satisfied. Right now, tell me what you want for your third wish so I can grant it and go try out this game called 'golf'. It seems to be quite popular in this time period though a lot different than when I was in Scotland a while back. Back then, they used wooden cudgels to beat small balls around over ground mounds being careful not to hit into the herds of sheep nearby. I remember when..... oh... sorry.... I'm doing it again, " Farzeeth said before trailing off as he realized he was rambling off on his past.

" Ok, here's my thinking, Farzeeth. This morning, after yet another great night with Hillary, I realized that my luscious love doll might be lonely and need some company when I'm not around to take care of her. Therefore, I wish that she had companions of a similar nature to be with from now on, " Jack said with his gaze once again turning towards his neighbor's house.

The genie followed Jack's gaze and nodded in quiet understanding. " I think they'll be no problem granting this wish at all. It shall be done! " Farzeeth shouted as he raised his hands towards the ceiling in a grand gesture while intoning words that were unintelligible. Suddenly, Jack felt a fogginess creep quickly over his mind and he slumped to the floor unconscious.....
The neighbor's........
Francine looked out the window of her house towards that idiot Jack's home and smirked when she saw him slump to the floor. "Idiot must have been out drinking with the boys last night and can't handle the hangover.... no wonder he doesn't have a wife or steady girlfriend.......! " the redhead thought to herself as she sipped a little on her glass of wine before putting it on a table behind her. Her live-in room mate and lover Alice was out sunning herself on the brick patio and thus she couldn't call her out to tell her what she had just seen.

For fun, Francine decided to give Jack a little show that would surely drive him crazy when he stood up and looked her way. Since it was early in the morning, she had only thrown on a top and shorts with no underwear underneath. Smiling an evil grin, she pulled down her top exposing her small but perky breasts. Just as she was doing so, she felt an odd sensation that felt like a mild electrical shock to her body. At the same time, her hands seemed to freeze in mid motion as did the rest of her body.

" What the... what the hell is going on here ?.... Alice!.... Alice, come out here right away!.... Something's happened to me and I can't move at all!... Alice, please help me!! " Francine pleaded and wailed with a voice that seemed to be rapidly losing strength as she did. She couldn't even move her head at all and was stuck staring at her reflection in the window while she desperately tried to figure out what was going on.

A few moments later, her immobility became secondary in her concerns as she watched her clothes disappear in a wink of an eye. At the same time, Francine saw her skin start to take on an artificial appearance with blemishes, freckles and even a birth mark just above her right knee disappearing like they were being rubbed out by an invisible eraser. She saw what appeared to be seams starting to appear on her arms and legs as if her body was composed of sheets of latex or rubber sewn together by factory machines.

" My skin... something's happening to... to..... to me.... oh, no, now I can't talk either.... maybe Jack will see me and help me....... " Francine said before falling silent as whatever changes that were happening to her body as a result of unseen forces started to spread rapidly. The auburn haired woman felt a growing sense of lightness as if she was rapidly losing weight and was internally filled with nothing more than air or some type of gas. Simultaneously, her thinking became cloudier and harder to focus with weird feelings entering her mind.... thoughts of being owned and loved by an owner.

"I..... feel so strange.. so... need my owner to fuck me...... NO!!!.... YES!!!!.... NO!!!!" Francine thought in conflicting patterns even as she saw, and felt, her pussy twitch and contort before forming into an O shape with the interior becoming a sac made of rubber or latex. At the same time, she sensed her anus moving upwards somehow by several inches before forming the same shape and appearance as her pussy. These changes to her body, accompanied by a growing sheen, would have had Francine screaming internally again and again but strangely she felt a growing sense of erotic bliss that seemed, well, right to her.

The changes swept upwards as the seams on her body became more defined and now were visible around her breasts. Her boobs inflated and formed two mounds of firm, air filled latex capped by thick, rubbery nipples and bright pink areloas on both of her tits. Francine desperately wanted her owner to caress and fondle them though the concept of being owned was still being fought by a small part of her consciousness. That same part had finally realized what Francine was changing into and it was a startling thought, to say the least.
"
A LOVE DOLL... I'M BECOMING A DAMNED SEX TOY!!... WHO?... WHY?.... I DON'T WANT.... WANT.... WANT TO BE USED... MAKE LOVE TO MY MASTER........
" Francine thought as the change swept up into her head and shoulders. As her eyes changed to nothing more than painted features, she was dimly aware of Jack slowly puling himself to his feet.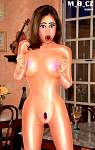 Strangely, she didn't even think of him as 'Jim' now but simply as 'Master' or 'Owner' and her mouth, which had formed the same O-shaped opening as her pussy and anus, ached to have him probe it with his cock or tongue. It was with these erotic thoughts that the newly created love doll slowly toppled forward against the window it ( or she) was looking out just a few minutes ago and even that window was starting to noticeably shimmer......
Elsewhere........
Alice sat back in her patio chair applying a last dab of tanning lotion before she stretched out on the deck next to the indoor pool. Lying in front of her was a blanket that she usually sat on when she was reading a book, surfing the internet on her laptop computer or meditating while doing yoga. Dressed in a bright pink bikini, the blonde bombshell had mistakenly put on a set of blue high heeled shoes when she dressed for her day by the pool. She decided that she would head back and get a pair of sensible shoes before lounging by the pool.

Just as Alice had stood up on the towel and was reaching down to remove her high heel shoes, she felt an odd sensation rippling through her body that caused her to partly faint as she fell to her knees. The sensation continued to strengthen even as Alice tried to stand up and she laid abruptly on her back trying to ease her discomfort. After a few moments of disorientation, she felt the tingling settled down in intensity though still present and tried to sit up. To her shock and horror, she found that she wasn't able to move any part of her body below the waist no matter how much she tried. Her legs remained bent at the news and slightly out to the sides as if she was pulling them towards her.

" What the hell is going on here?.... Francine!..... Francine, come here, I think I hurt something when I fell and I can't get up!.... Francine!.... " Alice yelled out repeatedly in desperation though she quieted down when she faintly heard what sounded like cries for help coming from Francine in another part of the house. She hoped that the fact that both of them were in trouble at the same time was a mere coincidence though a small part of her doubted it. Briefly, Alice contemplated yelling out for Jack, their neighbor, but figured she was too far away to get noticed and there was something unsettling about the way the little creep ogled her when she was out mowing the lawn or getting the mail.

Suddenly, and without warning, her bikini vanished right before her eyes leaving Alice completely naked. She tried to cover up her private parts but her hands froze just as she brought them up over her impressive breasts. With only her head still mobile, she tried to look around for whatever was causing her difficulties but saw no one or nothing out of the ordinary.

However, when she looked over her body, Alice realized that the odd sensations she was experiencing had a sinister ulterior motive. Her body was taking on a shiny, artificial appearance that was centered around her lower extremities and was rapidly expanding. She also what appeared to be long, thin lines becoming visible on her waist and legs that looked familiar to her though she couldn't figure out why. Her legs seemed to move on their own slightly upwards further exaggerating their bent position and exposing her pussy even more.

" This can't be happening.... I must be having a nightmare... I have to..... I.... oh, no, I've lost my ability to talk now... please, let me wake up now!......" Alice moaned before falling silent as the change to her body moved onward and upward. Her smoothly trimmed mound of pubic hair quickly shrank down before disappearing altogether while her pussy seemed to be closing on its own as if it was being filled by a cock or sex toy.
The resulting erotic stimulation, adding to the feelings she was already feeling, sent Alice mentally tumbling towards an orgasm unlike one she had ever felt before and she closed her eyes reflexively. When she opened them again, she saw ( and felt) her pussy open into a ovular shaped opening with the interior seeming to be made of rubber or latex. Alice saw what looked like stress marks become visible around her knees and elbows as if to suggest that her insides were now nothing more air or some sort of gaseous substance.

Alice's thoughts, growing increasingly hard to focus, turned to Jack once again though her attitude seemed to have changed. "Jack will help us... he's a good man... a good master and owner......WHAT THE HELL AM I THINKING?!.... I'M NOT A MINDLESS SEX TOY!.... SEX TOY?.... WHERE DID THAT COME FROM??!!" Alice pondered frantically even as the change moved inexorably upwards. The lines she saw earlier were becoming more pronounced and looked like seams that were now visible around her waist and encircling her breasts. She mentally moaned in pleasure as she felt her anus shift upwards before it formed into a shape that undoubtedly resembled her now artificial pussy in texture and appearance.

Alice felt her hands, which had taken the same look as the rest of her lower body, move slightly upwards as her breasts swelled outwards forming two firm boobs capped by thick nipples and bright pink areolas. With the transformation moving into her eyes and shoulders and the feeling of something growing out of the small of her back that felt like some sort of plug or tube, Alice finally realized why these changes seemed so familiar to her.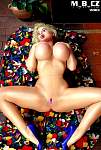 "
A LOVE DOLL!.... I'M BECOMING NOTHING MORE THAN AN AIR FILLED BLOW-UP DOLL!!... HOW?... WHO?.... IT CAN'T BE.... BE.....
" Alice thought even as the simplified thinking of a sex toy seemed to overwhelm her.
Her head froze just as she was looking to the side and the cheeks quickly took on a bright red color. Alice felt her teeth and tongue dissolve as the interior of her mouth formed into a smooth sac that seemed empty to her. As her mouth pulled into an O shape and her eyes became nothing more than painted features, Alice became more content with her new state and longed to see her new owner soon. As the new love doll basked in pleasure, her surroundings started to change and shimmer......
Next morning........
Jack awoke on a bed that seemed to fill his master bedroom with a very contented smile on his face. Looking downward, he realized that he was lying on top of his Alice love doll with his head nestled between its' voluptuous breasts. Sitting up slightly, he noticed that his other two dolls, Hillary and Francine, had their limbs entwined around his lower torso and legs. Judging by the empty tubes of EASY LOVE lying by the bed and the dolls seemed sticky around their inviting openings, he must have used all three of them last night though, for some reason, he couldn't remember anything about it or his neighbors or his former girlfriend Hillary.

Disengaging himself from the inflatable sex toys, Jack climbed off the bed and stumbled into the washroom where he quickly showered and shaved. After drying himself off, he went back to his bedroom where, after cleaning off his prized possessions, he deflated each one of them in turn.

From the doll's perspectives, the sensation of being deflated for the first time was quite exhilarating to say the least though they still protested their state on some level of subconscious thought. The feeling of their latex bodies rubbing against each other produced feelings of erotic bliss that they missed when they were finally folded up and placed in their individual boxes.

After storing the dolls in his closet in a standing position so he could see their faces when he pulled them out again to take care of and use in intimacy, Jack walked out to the kitchen mulling over his final wish to make. After fifteen or so minutes of silent contemplation, he walked over to the kitchen table and called out the genie's name one final time.

With the usual smoky entrance, Farzeeth appeared holding what looked like a statue of a troll type creature holding a golden ring in his left hand and a leather book with ROMEO & JULIET written on it in bright golden letters. " Can you imagine that this statue actually has more people interested in it than the written works of Shakespeare ? These are truly strange times you live in, young man. Why, I remember when I was in the culture of the Aztec people and they played their sport of what you call basketball now, let me tell you, that was a violent time. One time, a village several hundred miles away... oh.. sorry... right... the wish... " the genie intoned before stopping and putting down the items in his hands on the table behind him.

" Well, Farzeeth, I was thinking this morning that I really enjoy my love dolls but this house seems awfully empty with just me and the three of them. Therefore...." Jack started to say before his gaze wandered outside to the houses across the street where several of his female neighbors were standing at the edge of a driveway dressed in tight fighting spandex shorts and T-shirts for what looked like a group jog.

" Therefore....? " Farzeeth said in a prodding voice somewhat impatient to fulfill this last wish.

" Therefore, I wish I was the owner of thousands of dolls to take care of! " Jack said in a short, concise manner.

The genie scratched his head thoughtfully for a few seconds before nodding in understanding. " I think we can grant this last wish for you, young man, and I think you'll be very happy when it's all said and done. "DOLLZARUS STOREMUS OWNERUS!!!" the genie intoned in a grand manner as his body seemed to grow larger and smoke rapidly filled the room. As before, dizziness overwhelmed Jack and he slumped to the floor with a happy smile on his face.
Next day........
The bright lights and flickering neon reflected the warm summer sun that was beating against the windows of the adult accessories and entertainment business known simply as ADULT DREAMS AND WISHES. Inside, a wide variety of merchandise was for sale though the store's specialty was the impressive and amazingly realistic love dolls it had for sale. The store's owner, a mid 40's balding man with ample waistline known simply as Jack, boasted that he had the best dolls anywhere and judging by the exorbitant prices he charged, he was a true believer in that. Nevertheless, judging by the steady stream of customers he had, Jack had a clientele who believed in his claims. For those who didn't, he showed them a picture of his own doll, who he called Hillary, his 'personal' doll.

It was towards closing and Jack was about to close up for the night when a man approached the cash carrying two doll boxes in his hands. When the store owner looked at the boxes, he nodded in approval at the customer's selection. " Francine and Alice.....very nice choices indeed. I'm almost sorry to see them go. Cash or charge? " the owner said as he rang through the purchases and put them into a red and black plastic bag that had the image of a lamp printed on the side.

" Charge it... " the dark skinned man said handing Jack a red and gold charge credit card with the images of several women jogging on it imprinted on it.

Jack nodded and, after completing the transaction, handed the bag to the customer. " Thank you for your patronage, Mr. Farzeeth. I hope you enjoy your purchases, " he said with a happy smile.

Farzeeth smiled and nodded. " I think I will, sir, " he said before leaving the store, which stood where the genie had first emerged a short time ago. The surrounding neighborhood was completely gone and replaced by a parking lot for the store.

" I think you, Jack, will be enjoying yourself, too.. and maybe your dolls will, as well," the genie murmured to himself before disappearing into smoke once again....



THE END
06.12.08